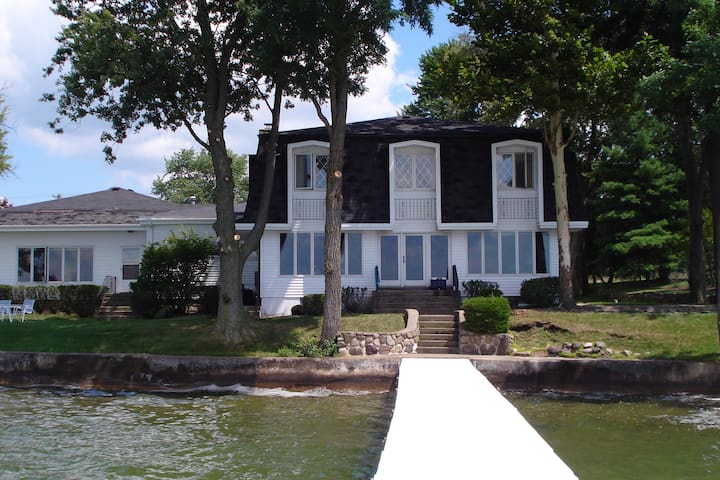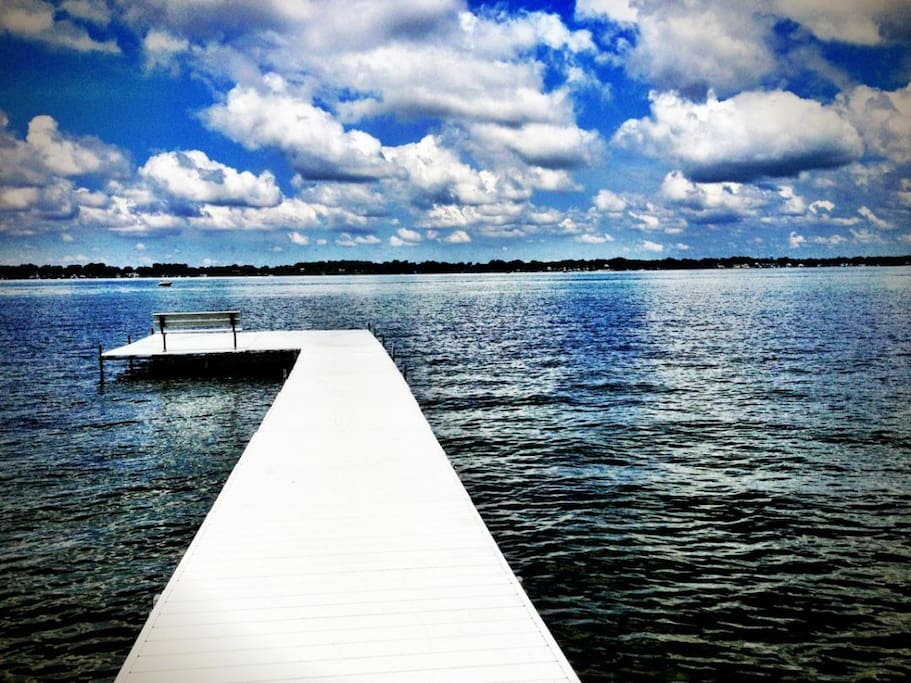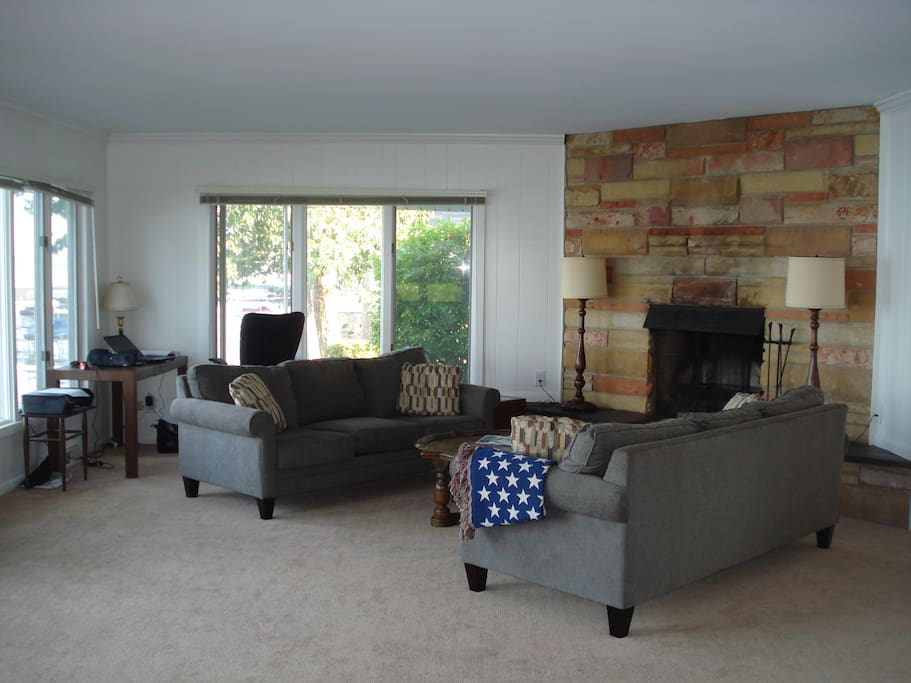 5,5 bagni (anche di servizio)
5,5 bagni (anche di servizio)
This lakefront home is on the East Shore of Lake Maxinkuckee. Enjoy the lake lifestyle in this spacious house that sleeps 16. The lot is flat and has expansive lake frontage.
L'alloggio
This lakefront home is on the East Shore of Lake Maxinkuckee. Enjoy the lake lifestyle with your family and friends in this spacious house. The lot is flat and has a nice grass area next to the lake and is across the street from the Maxinkuckee Country Club golf course. This property has more lake frontage than most properties on the lake and is offset from neighbors providing nice privacy. The home has a large pier which provides a great space for enjoying lake living. Relax with a glass of wine watching evening sunsets and sail boats moving across the lake.
The main portion of the home includes six bedrooms and 3.5 bathrooms. It features a large kitchen with a good size island along with a huge dining room which seats 12 people. There is den with a flat screen TV as well as a large sitting room along the front of the house with full lake views. New carpet was recently installed throughout the main portion of the home. The dining room and lake room were recently painted, as well. There is also a connecting second unit which includes two bedrooms, two full baths, a family room with a flat screen TV and a kitchen.
The basement has a washer and dryer, ping pong table and pool table.
The home is located close to the Culver Marina and is about 2.5 miles from downtown Culver, which has a number of restaurants, a public beach and a grocery store.
We offer summer weekly rentals along with shorter minimum stays throughout the school year. The close proximity to Culver Military Academy makes this a convenient place for Academy events. Rates vary by season and length of stay. See the rate section for more details.
Altre cose da evidenziare
Here is a copy of the rental agreement:
This Lease made and entered into on Date, by and between Durant Group, LLC ("Lessor") and Name ("Lessee"), subject to the following terms and conditions:
1. Term. The term of this Lease is for X nights arriving after 4:00 P.M. on Date and departing before 10:00 A.M. on Date.
2. Premises. The address of the house is 2160 East Shore Dr., Culver IN 46511 ("Premises"). This agreement allows for use of the South Manor House and North Suite, consisting of both the one and two story portion of the Premises.
3. Rent. Lessee agrees to pay a total rent of $XXXX.00. The amount is based on the following:
Base Rent: $XXXX.00
Cleaning Fee: $300.00
County Taxes (5%): $XX.00
Total Due: $XXXX.00
The total amount of rent and other charges specified above is due thirty (30) days prior to arrival. If total amount of rent is not received by this date, the Premise may be relisted for the term. If this agreement is entered into less than thirty (30) days prior to arrival, total amount of rent is due within three (3) days of Lessor's receipt of this signed agreement.
4. Force Majeure. The base rent is nonrefundable; except as set forth in paragraph 6. There shall be no refund or credit in the event Lessee is unable to arrive at the Premises on the arrival date or in the event Lessee departs from the Premises prior to the departure date due to inclement weather, disruption to air or car travel, health problems or any other reason.
5. Security Deposit. In addition to the rent payment specified in paragraph 3, Lessee shall submit a security deposit in the amount of $700. The security deposit is due within three (3) days of Lessor's receipt of this signed agreement. Lessor may use all or any portion of the security deposit reasonably necessary to (a) cure Lessee's default in payment of rent or other sums due; (b) repair damages caused by renter or by a guest of renter; (c) clean the Premises in excess of normal cleaning; (d) repair or replace furniture, kitchenware, or personal property, excluding ordinary wear and tear; or (e) return Lessee's personal property left at the Premises. The cost of any work, including time and materials, to return the Premises to the identical condition in which the Lessee first entered the Premises, beyond normal wear and tear for the Term of the Lease, may be deducted from the Security Deposit. No later than thirty (30) days after the end of the term, Lessor shall furnish Lessee an itemized statement of damages or required repairs and shall return the remaining portion of the security deposit to Lessee. Lessor may retain the security deposit as described in paragraph 12.
6. Cancellations. Any cancellations must be three (3) months prior to arrival in order for any portion of security deposit to be returned. There will be no refund of base rent if the Lease is cancelled within one (1) month of the occupancy commencement date. Security deposit and housekeeping fee will be returned. If there is an emergency from the Lessor, the Lessor reserves the right to cancel with no financial obligations one (1) month prior to arrival. Upon cancellation by Lessor, any security deposit or payments made by Lessee will be refunded in full by Lessor within seven (7) days of cancellation. The term "emergency," for purposes of this paragraph only, is defined as any severe structural damage (i.e. caused by flood, fire, or other natural disaster to the Premises which make the Premises uninhabitable).
7. Use of the Premises. The Premises described are leased to Lessee for the sole purpose of residential occupancy, and the Lessee agrees that the Premises will be used only for such activity, complying fully with all applicable laws, ordinances, or regulations regarding the use of the leased Premises, including all sanitary and health regulations.
8. Assignment/Subletting. Lessee agrees that Lessee will not assign or sublet in whole or part any portion of the leased premises without the prior written consent of Lessor, which said consent would not be unreasonably withheld.
9. Occupancy. The Premises will be occupied by a maximum of 16 people. Occupancy of the Premises by any additional persons is a breach of this agreement and may result in forfeiture of Lessee's security deposit at the sole discretion of Lessor. Lessee is subject to immediate eviction from the Premises in the event Lessee breaches this occupancy provision with no refund of unused rent.
10. Injuries or Loss. Lessee does hereby release, forever discharge and agree to hold harmless Lessor, and any of its members, from any and all liability, claims or demands for personal injury, sickness or death, as well as property damages and expenses, loss or theft of any nature whatsoever which may be incurred by the Lessee and/or all participants that step inside as guest(s) or stay the night(s) as occupants of the Premises. Furthermore, on behalf of themselves and the guest(s), Lessee assumes all risks of personal injury, sickness, death, damage and expense as a result of participation in recreational activities involved on or around the Premises, including the lake. The Lessee hereby agrees to hold harmless and indemnify for any liability sustained by Lessor, and any of its members, as a result of negligent, willful or intentional acts of Lessee and any and all guest(s) of the Premises. Lessee agrees to pay Lessor's homeowner's insurance deductible if damage is done to the Premises (real estate or personal property) and such damage is caused by the Lessee and/or guest(s).
11. Sewer Instructions. Lessee understands that the sewer system is delicate and agrees to follow the listed guidelines. If Lessee causes a sewer back-up or appliance malfunction, Lessee understands Lessee will be responsible for costs associated with servicing and curing the back-up. Lessee agrees as follows:
a. Only human waste and paper shall be flushed down the toilet. There shall be no sanitary napkins, tampons, condoms, or paper towels flushed down the toilet. There shall be no flush fiber materials such as cleaning rags, disposable or cloth diapers, toddlers' soiled underwear, baby wipes, washcloths, swiffer dust cloths, etc. flushed down the toilet.
b. There shall be no cooking grease, egg shells, etc. put down the kitchen drain. Lessee understands there is no sink garbage disposal and there shall be only liquid put down the kitchen drain. Please use liquid dishwashing soap in the dishwasher. Do not use granular product.
c. Please use liquid laundry detergent in the washing machine. Do not use granular product.

12. Other Conditions. Lessee agrees further as follows:
a. Occupancy and use of the Premise shall not disturb neighbors or residents. Lessee shall not have a party or gathering on Premise. Excessive noise, disruptive behavior and/or gathering with more than the agreed number of guests will not be tolerated. A party or gathering of any nature will result in automatic forfeiture of security deposit and Lessee vacating the property immediately without refund.
b. There shall be no pets on the Premises. A pet on premise will result in full forfeiture of security deposit.
c. The Lessee understands that Lessor is not responsible for any accidents on the pier or in the lake, including personal injury or death, as set forth in paragraph 10.
d. Overnight boat tie ups and boat tie ups during inclement weather are not allowed. Lessee is required to rent a hoist for overnight boat storage. An overnight boat tie up or boat tie up during inclement weather will result in full forfeiture of security deposit.
e. If Lessor's boat and/or boat lift is on Premise, Lessee understands it is the property of the Lessor and is not for his or her use. Lessee is responsible for any damage which occurs to the boat and/or lift as a result of Lessee's use of the Premise. This may result in forfeiture of Lessee's security deposit. Lessee assumes all risks of personal injury, death, damage and expense as a result of misuse of the boat and/or lift.
f. There shall be no smoking on or about the Premises. If there is smoking outside, do not leave debris in the yard. Absolutely no smoking allowed inside the house. Smoking in the house will result in full forfeiture of security deposit.
g. There shall be no alcoholic beverages served to minors, and no minors shall be allowed to reside alone on the Premises.
h. There shall be no loud or unnecessary noise which interferes with others.
i. There shall be no grilling or any type of fire allowed on or near the Premises except in existing BBQ. Do not burn candles. Fire pit use is prohibited.
j. Lessee agrees that Lessee will not place or otherwise install any signs, decals, posters or in any way damage the walls or doors.
k. Lessee agrees to leave the Premises in the same condition as when it was rented.
l. Lessee understands that housekeeping is not included during the stay, but is required upon departure at Lessee's expense. As described in paragraph 3, the housekeeping fee will be included with payment of rent and is due one (1) month prior to arrival. The housekeeping fee indicated in paragraph 3 is the expected fee to clean this home. If the amount increases as a result of excessive cleaning required due to the condition of the house, this additional amount will be deducted from the Security Deposit together with any damages, and the balance will be returned to Lessee as described in paragraph 5.
13. Breach. Failure of Lessee to fully perform under any or all the terms and conditions of this Lease shall constitute a breach of this Lease entitling the offending party to take any and all actions provided by law, including but not limited to one or more of the following:
a. Retain the full security deposit;
b. Lock the doors to the leased Premises;
c. Retain or take possession of any property on the Premises pursuant to Lessor's Landlord Lien, which is hereby granted;
d. Enter the Premises and remove all persons and property there from.
e. Declare the Lease at an end and terminated;
f. Sue for the full balance due under the Lease and any damages sustained by Lessor together with attorney fees.
14. Miscellaneous. This agreement represents the sole and entire agreement between the parties hereto and supersedes all prior agreements, negotiations, arrangements and discussions between them. Any amendment to this agreement must be in writing and signed by both parties hereto. This agreement may be executed and delivered in counterparts or otherwise by facsimile or other electronic communications, and, if so, this agreement shall be deemed effectively executed and delivered as of the date of transmission via electronic communication.
By signing below, the Lessee confirms he/she is at least 30 years of age and agrees to perform according to the terms of this lease agreement.
Entered into this XX day of Date.
__________________________________________
Lessee Signature: Name(URL HIDDEN)
Lessee Contact: Phone
Email
________________________________________________
Lessor Signature: Durant Group, LLC
Please return contract by email or fax within five (5) days to Lessor (see contact info above).
Ospiti extra nessun costo aggiuntivo
Deposito cauzionale 715 CHF
Comunica sempre attraverso Airbnb
Per proteggere i tuoi pagamenti, non trasferire mai del denaro e non comunicare all'esterno del sito Web o dell'app di Airbnb.
This house is huge. We are a group of four families attending Culver Spring Parents Weekend and all fitted in comfortably. Four cars can park there easily without blocking each other and you could fit in additional 2 cars back to back.The kitchen is big and well stocked with pots and plates. There is a big formal dining rooms and a casual dining tables in the kitchen where we eat most of time. Wifi is working there are plenty of sheets and towels. The weather is unexpectedly cold and the heating in general is ok. overall, we had a great time ! The manager was very prompt in answering all our questions . Definitely coming back !
---
The house is located on the lake and very close to Culver Academise where we spent our weekend. The house is exactly as it was described. We had a mini reunion of friends there and we all had a wonderful time. Kathleen made sure that we are all set for our check in and she is very prompt to answer all of our questions.
---
Tasso di risposta:
100%
Tempo di risposta:
entro un giorno
Esplora altre opzioni a Culver e nei dintorni
Altri alloggi disponibili a Culver: