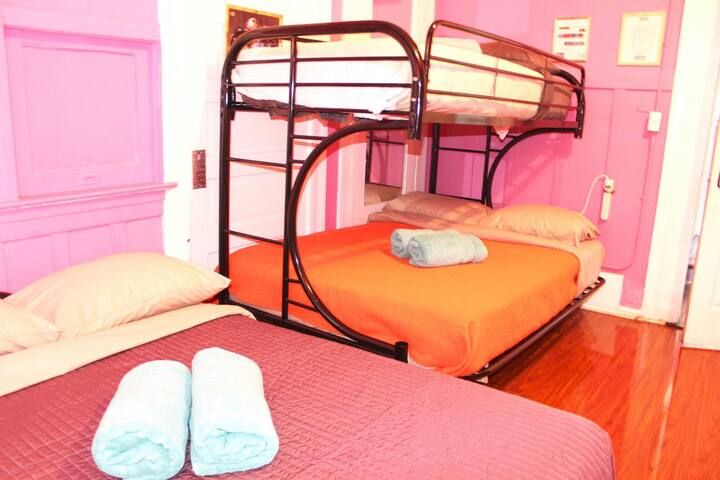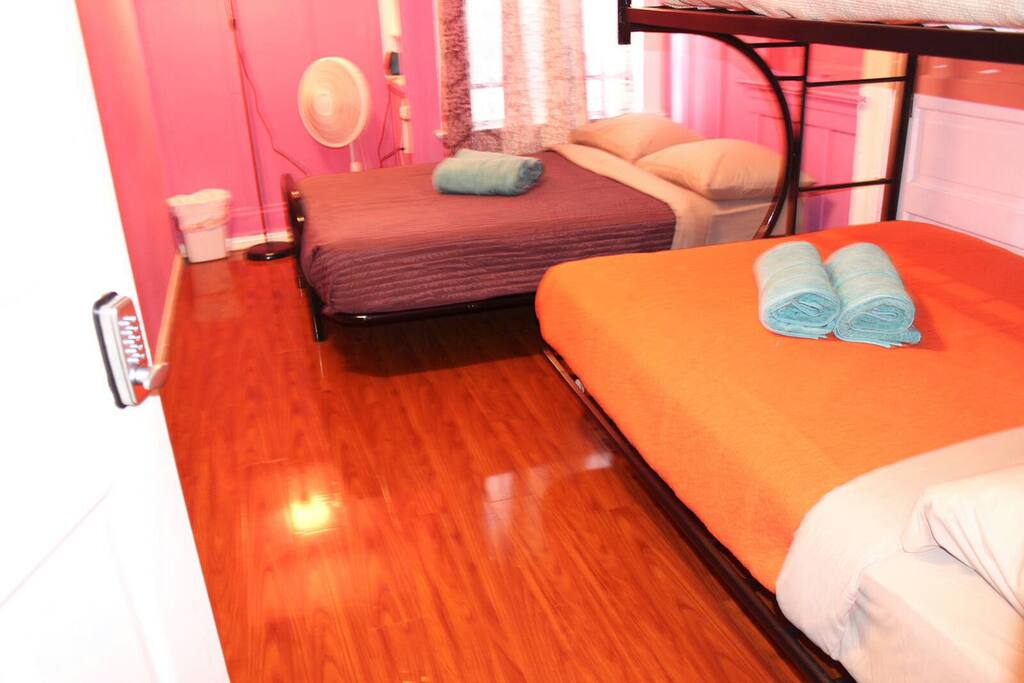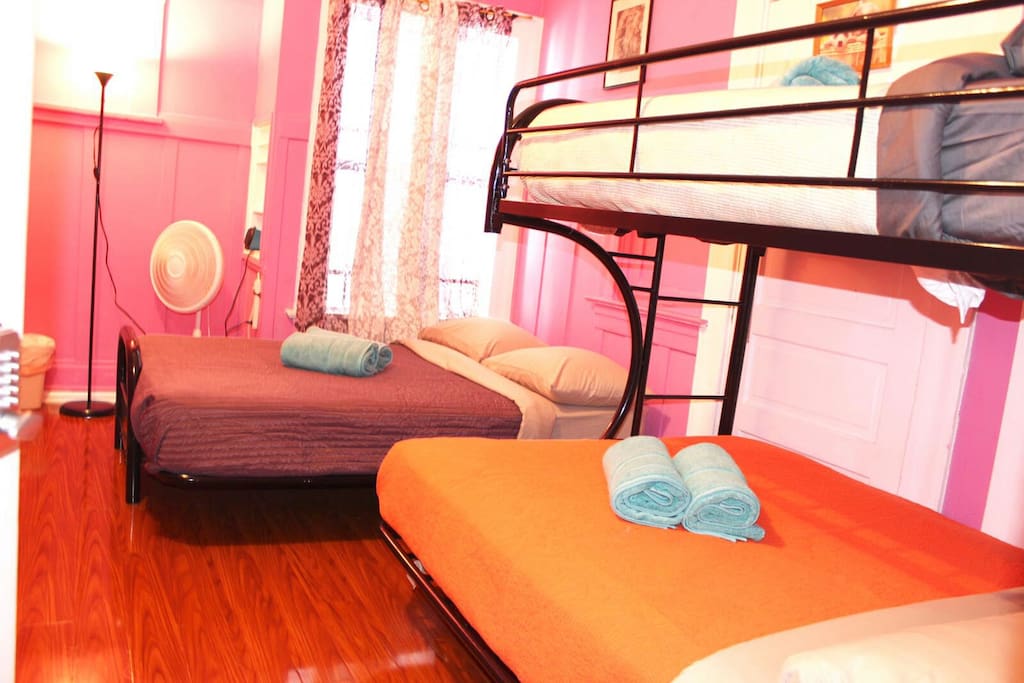 This is private room. Fit 2-5 ppl. We recently changed and remodeled the room and now its fully private with own entrance. In big house. Bath is shared with 4-5 rooms. We have 2 baths and 2 toilets.
L'alloggio
Dear guest! We have prepared for you a description.
The house is located in the heart of Los Angeles, 12 minutes from Hollywood. It is a densely populated area where there are many restaurants, bars and shops. Sometimes there can be noisy, as in all large cities. From our region easy access to all attractions of Los Angeles, as the geographical area is located in the downtown.
Our house - it's a big old three-storey house with spacious bathrooms and large windows. We made repairs in the house.
The bathroom and toilet are located on each floor. Bathrooms renovated. We only have 2 full size bathrooms and 2 toilets. So sometimes you have to wait. Housekeeping twice a day cleans bathrooms. On the ground floor there is a reception and information boards. Also on the first and second floor is a storage room for luggage, its 10 dollars fee.
The house has wireless internet access 100 Mb. Login Sony PlayStation 4
Password California.
In three minutes from the house on Pico Boulevard there are many bus stops. By bus number 33 takes you to Venice Beach and Santa Monica's famous. By bus number 30 takes you to the beautiful area of Little Tokyo. Metro Vilsher / Vermont is 15 minutes away. Before Nokia Plaza, the Grammy Museum and the Convention Center 20 minutes walk. In the evening there are very nice. There is also a 3D cinema. There are many restaurants and cafes and tourists.
In our area you can park on the street for free. But carefully read the signs indicating the time. Also i can't help you with parking, so you have to find spot yourself. Please respect my time.
Two minutes from the hotel by South Westmoreland Avenue is Desis Coin Loundy. Food4Less large supermarket is 5 minutes away.
As at the other tourists live, please be quiet early in the morning and after 10 pm. We also ask you to observe the cleanliness of the bathroom.
Note! According to LA housing code more than 30 days stay.
DONT BOOK MARIJUANA GUESTS!!!!
DONT BOOK MARIJUANA GUESTS!!!!
DONT BOOK MARIJUANA GUESTS!!!!
NO KIDS PLEASE.ф
Interazione con gli ospiti
Altre cose da evidenziare
DEAR GUESTS!
WE HAVE ANSWERED MOST QUESTIONS HERE FOR YOU, SO IT IS EASIER FOR YOU TO KNOW EVERYTHING. IF YOU HAVE MORE QUESTIONS – ASK US VIA AIRBNB MESSAGES.
1.HOW TO CHECK IN?
ANSWER:
WE PROVIDE SELF CHECK IN SYSTEM. THAT MEANS, WE SEND ALL INFORMATION AND INSTRUCTIONS HOW TO CHECK IN VIA AIRBNB MESSAGES 1 DAY BEFORE ARRIVAL DATE. CHECK IN STARTS FROM 2PM. BUT YOU CAN COME LATER AFTER 2PM BUT NOT EARLIER, BECAUSE HOUSE KEEPER WORKS. IF YOU WANT TO CHECK IN EARLIER – YOU CAN USE STORAGE ROOM FOR YOUR BAGS, ITS 10 DOLLARS PER DAY. LET US KNOW BEFORE IF YOU COME EARLIER SO WE CAN OFFER STORAGE ROOM FOR YOU BAGS.
2.DO YOU HAVE ANY PARKING?
ANSWER: YES, WE HAVE 2 KIND OF PARKING
Answer: I am sorry, we don't provide any parking at this location, manage the parking yourself on street. I am not responsible for parking and can't help you to find parking. people find parking themselves. thanks for understanding and respect.
3.DO WE HAVE A WIFI?
ANSWER: YES WE HAVE WIFI NETWORK, ITS FROM TIME WARNER COMPANY, SO ITS NOT THE BEST ONE, BUT WORKS GREAT. WIFI NAME AND PASS IS WRITTEN INSIDE YOUR BOOKING FROM AIRBNB.
4.IS THIS SAFE AREA, DOWNTOWN LA?
ANSWER: THE AREA IS SAFE. WE DON'T HAVA ANY PROBLEMS WITHIN 2 YEARS. THIS AREA IS MOSTLY RESEDENTIAL, BIG FAMILIES, 3 PUBLIC SCHOOLS AROUND, LOTS OF STORES, CAFES AND BIG POLICE DEPARTMENT IN OUR AREA.
5.HOW TO GET TO HOLLYWOOD, TO OCEAN/BEACHES AND TO THE DOWNTOWN/CONVENTION CENTER
ANSWER: WE ARE JUST ABOUT 12-15 MIN BY UBER/ TAXI/BUS/METRO, OCEAN/BEACHES IS 25-30 MIN BY UBER/BUS, PLEASE CHECK (SENSITIVE CONTENTS HIDDEN) MAPS FOR MORE INFO. DOWNTOWN IS JUST 2-5 MIN FROM US.
6.WHERE CAN WE EAT (CAFES/RESTAURANTS, FOOD STORE, SUPERMERKETS)?
ANSWER: WE DO HAVE LOTS OF SMALL RESTOURANTS IN OUR AREA WITHIN WALK DISTANCE, EACH MEAL COASTS APROXIMATLY IS $5 or $7
7.WHAT KIND OF ROOMS WE WILL HAVE?
ANSWER: WE HAVE ONLY PRIVATE ROOMS, NO SHARED. FULLY PRIVATE. EVERY OF ROOM HAS THEIR OWN KEYS, ITS PRIVITE, COZY AND VERY COMFORTABLE FOR RELAXING AFTER BIG TRIP. INSIDE THE ROOM - FULL SIZE BED/BEDS (AMERICAN STANDART). WE PROVIDE NECESSARY ITEMS LIKE TOWELS, LINENS, SHOWER GEL. SOME ROOMS HAS AC/FANS/HEATERS.
8.DO YOU HAVE HOUSE KEEPERS(URL HIDDEN)ANSWER: WE HAVE VERY NICE TEAM OF HOUSEKEEPERS. THE CLEANIN(URL HIDDEN)
(URL HIDDEN)HOURS 10 AM - 12 PM EVERY DAY. WE CLEAN COMMON AREAS, RESTROOMS, TOILET AND SHOWERS. WE RESTOCK THE TOILET PAPERS. SOMETIMES PEOPLE DON'T CLEAN AFTER THEMSELVES AND PLEASE NOTIFY US IF YOU NEED ADDITIONAL CLEANING. WE CLEAN THE ROOMS AFTER PEOPLE CHECK OUT.
9.DO WE HAVE A STORAGE AREA TO PUT MY BAGS IN THE MORNING OR AFTER CHECK OUT?
ANSWER: YES, WE HAVE STORAGE ROOMS. ITS IS $ 10 PER DAY UP TO 4 BAGS. IF YOU NEED BIGGER STORAGE LET US KNOW. ALSO YOU CAN LEAVE THE BAGS UP TO 15 DAYS. WE CAN GIVE YOU DISCOUNT.

10. IS IT SAFE IN THE HOUSE/ROOM?
ANSWER: YES, YOU'LL BE VERY SAFE. INSIDE THE HOUSE WE HAVE SECURITY CAMERAS IN COMMON AREAS. EVERY DOOR HAS OWN LOCK, YOUR ROOMS ALSO HAS LOCK, MAIN DOOR HAS LOCK AND GATES HAS LOCK.
11. WHAT ARE THE RULES OF THE HOUSE?
ANSWER: NO SMOKING, NO DRUGS, NO NOISE AFTER 11 PM, NO PARTY. IF YOU COME AFTER 11PM PLEASE BE QUITE AS POSSIBLE BECAUSE PEOPLE SLEEP.
12. HOW IS THE CHECK OUT?
ANSWER: CHECK OUT TIME AT 10 AM TILL 10.30AM. PLEASE DON'T LEAVE ANY PERSONAL BELONGINGS, THROW GARBIDGE AT THE BACK OF THE BUILDING WE HAVE GARBAGE BIN. PLEASE LEAVE THE KEYS IN THE DOOR LOCK KBOB, LIKE YOU FOUND IT.
13. CAN I SMOKE OR DRINK ALKOHOL IN THE HOUSE?
ANSWER: UNFORTUNATLY WE DON'T ALLOWED SMOKING INSIDE THE HOUSE. IT IS HEALTHY HOUSE. YOU CAN SMOKE AT THE BBQ AREA OR OUTSIDE THE HOUSE. STRICTLY NO MARIJUANNA!!! WE CANCEL THE STAY SAME DAY IF SOMEONE IS DOING MARIJUANNA/DRUGS.
14. CAN I GET ADDITIONAL TOWELS/LINENS?
ANSWER: IF YOU NEED ADDITIONAL TOWELS/LINENS, PLEASE MANAGER OR TEXT INSIDE THE AIRBNB MESSAGE.
15. CAN I ADD MORE DAYS TO EXISTING RESERVATION?
ANSWER: YOU CAN ADD MORE DAYS BY USING AIRBNB. WE DON'T ALLOW CASH OR VERBAL WORDS EXTENSION. ONLY INSIDE AIRBNB. IF YOU NEED MORE DAYS – DO IT ONLINE VIA ALTERATION PROCESS.
16. CAN I ORDER AIRPORT PICK UP OR TAXI SERVICE?

ANSWER: YES WE PROVIDE AIRPORT TRANSFER. IT IS $45 ONE WAY, MAX PERSON - 3, IF WILL BE 4 - 6 CUSTOMERS, PRISE - $ 75 ONE WAY. TO ODER ONE – LET US KNOW VIA AIRBNB MESSAGES AND TEXT US YOUR FLIGHT INFO AND TERMINAL/LOCATION.
17. CAN I CANCEL MY RESERVATION?
ANSWER: YOU CAN CANCEL IT USING AIRBNB, BUT MAKE SURE YOU READ CANCELATION RULES CONCERNING HOW MUCH IS REFUNDED.
18. CAN I USE KITCHEN?
ANSWER: UNFORTUNATLY KITCHEN CLOSED FOR GUESTS, BUT WE HAVE MACROWAVE, REFRIGIRATORS, ELECTRIC KETTLE.
19. CAN I ARRIVE EARLY MORNING OR LATE NIGHT?
ANSWER: YOUR RESERVED ROOM WILL BE READY AT 2PM, BECAUSE HOUSE KEEPER WORKS. IF YOU WANT TO COME EARLIER – YOU CAN USE STORAGE ROOM WHICH IS 10 DOLLARS PER DAY. IF YOU COME LATER USE INSTRUCTIONS INSIDE THE AIRBNB MESSAGES, WHICH HAS BEEN SENT TO YOU.
20. IS THERE ANY LAUNDRY AT HOUSE?
ANSWER: WE DON'T HAVE LAUNDRY INSIDE THE HOUSE. YOU CAN USE COIN LAUNDRY IN OUR AREA IN WALKING DISTANCE.
21. CAN I GET MAIL OR DELIVERY OF ITEMS TO THE HOUSE?
ANSWER: UNFORTUNATLY MAIL OR DELIVERY OR ITEMS ARE NOT ALLOWED FOR SAFETY REASONS.
22. IS THERE ANY PRINTER AT HOUSE?
ANSWER: FOR PRINTING PLEASE USE PRINT SHOPS IN OUR AREA, CHECK BY (SENSITIVE CONTENTS HIDDEN) MAP.
23. WHERE THE SHOWER/RESTROOM?
ANSWER: EVERY OF FLOOR HAS ITS OWN RESTROOM & SHOWER AREA. DOUBLE CHECK THE INFO INSIDE AIRBNB DETAILS.
24. IS THERE ANY FREE MEAL OR COFFEE?
ANSWER: WE DON'T PROVIDE BREAKFAST.
25. IS THERE ANY PETS AT THE HOUSE?
ANSWER: NO. WE DON'T ALLOW ANY PETS AT THE HOUSE.
26. CAN I COME WITH KIDS. IS IT GOOD FOR KIDS?
ANSWER: WE MARKED THE OPTION "NO KIDS" IN AIRBNB, BECAUSE THE HOUSE IS VERY OLD AND CAN BE NOISY, SO ITS UP TO YOU.
27. CAN I BRING MY PETS?
(URL HIDDEN)ANSWER: NO PETS PLEASE! SOME GUESTS MIGHT HAVE ALLERGY, SORRY.
28. IS THERE ANY SUPERMARKET/FOOD STORE AROUND?
ANSWER: WE HAVE MANY STORES AROUND WITH VERY CONVINIENCE PRICES, ALSO BIG SUPERMARKET NAMED "FOOD 4 LESS", PLEASE CHECK ON (SENSITIVE CONTENTS HIDDEN) MAP. ITS WALK ABOUT 5 MIN.
29. IS THIS A BUSY AND NOISY AREA?
ANSWER: THE HOUSE LOCAITED IN THE CENTER OF LA. AS YOU KNOW LA
IS A VERY BIG CITY OF CALIFORNIA WITH MILLIONS OF PEOPLE LIVED IN(URL HIDDEN) IT WON'T SURPRISED YOU IF SOMETIMES VERY NOISY AND BUSY.
30. HOW OLD IS THE HOUSE AND WHAT THE CONDITION(URL HIDDEN)ANSWER: THE HOUSE IS MORE THAN 100 YEARS SINCE BUILD. LAST YEAR(URL HIDDEN) WE DID RENOVATION, BUT STILL DOS NOT LOOK FANCY/FASHION STYLE, BUT IT'S VERY NICE, COZY AND COMFORTALE. IT HAS REGULAR WEAR AND TEAR.
31. IS THERE ANY TV INSIDE THE ROOM?
ANSWER: WE DON'T OFFERING ANY TV, BUT WE HAVE FAST INTERNET, SO YOU CAN USE IT.
32. IS THERE ANY AREA FOR SMOKING MARIHUANA?
ANSWER: NO, NO, NO!!! PLEASE BE CAREFUL WE DON'T ALLOWED SMOKE MARIHUANA IN ANT WAY. NOT INSIDE OF HOUSE, NOT OUTSIDE OR CLOSED TO HOUSE. IF ANYBODY SEE YOU, YOUR RESERVATION WILL BE CANCELED AND WE CALL AIRBNB SAME DAY. THIS IS HOUSE RULES!

33. WHO LIVES IN THE HOUSE?
ANSWER: HALF OF MY HOUSE BELONGS OF MY FAMILY MEMBERS, SO PLEASE BE MORE RESPECTFUL AND RESPECT OUR HOUSE RULES.

34. HOW MUCH DOES IT COAST TO USE METRO OR BUS?
ANSWER: METRO OR BUS WILL COAST YOU $1.75 OR YOU CAN BUY TRAVEL CARD.
35. IF IT POSSIBLE TO PAY BY CASH?
ANSWER: WE DON'T ACCEPT ANY CASH HERE, ONLY AIRBNB PAYMENTS.
36. ANY PARKING FOR BICYCLE?
ANSWER: WE HAVE VERY NICE FREE PARKING FOR BICYCLE OR YOU CAN BRING YOUR BIKE INSIDE THE HOUSE, BUT MAKE SURE ITS NOT BLOCKING ANY COMMON AREAS.
37. IS THERE HAIR DRYER AND IRON?
ANSWER: NO IRON AVAILABLE FOR SAFTY REASON. BUT WE HAVE HAIR DRYER, PLEASE ASK TO MANAGER.
38. CAN I USE THE FRONT YEARD(URL HIDDEN) ANSWER: YES, YOU CAN. YOU CAN SEAT AND ENJOY WITH CUP OF COFFEE OR MEAL. BUT PLEASE DON'T USE IT AFTER 11PM PEOPLE IS SLEEP THAT TIME AND WINDOWS ARE FACED TO THE FRONT YARD.
Vietato organizzare feste/eventi
Non sicuro o inadatto per i bambini (0-12 anni)
Orario per il check-in: 14:00 - 23:00
• Check-in time is 2PM. you can come later if you want.

No smoking please. No noise after 11pm.
Again note: People sleep after 11pm. So be quite please! If you want to be noisy and make party here, don't book this place!!!!!!
I am sorry, we don't provide any parking at this location, manage the parking yourself on street. I am not responsible for parking and can't help you to find parking. people find parking themselves. thanks for understanding and respect.
Los Angeles, California, Stati Uniti
Membro dal Giugno 2014
My family have big house and we want to share it with you. We like to travel and we love meeting new people from all over the world. Most of my family members works also with airbnb service. We offer budget stay, which is not perfect, but located in Downtown LA and is very nice. …
Lingue:
English, Français, Italiano, Polski, Português
Tasso di risposta:
100%
Tempo di risposta:
entro un'ora
Esplora altre opzioni a Los Angeles e nei dintorni
Altri alloggi disponibili a Los Angeles: