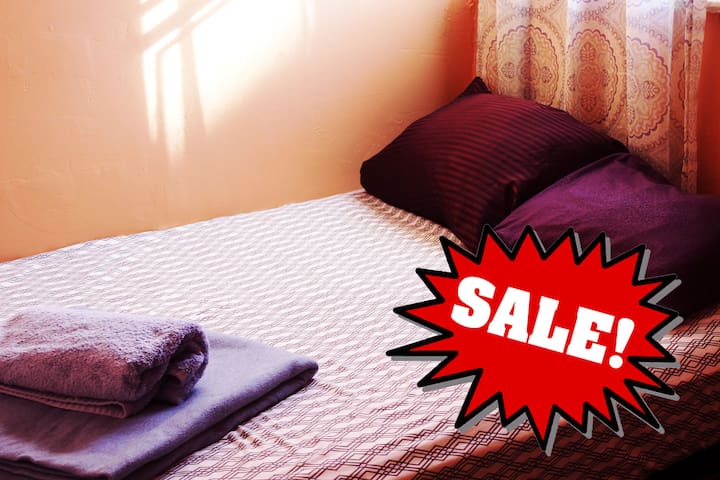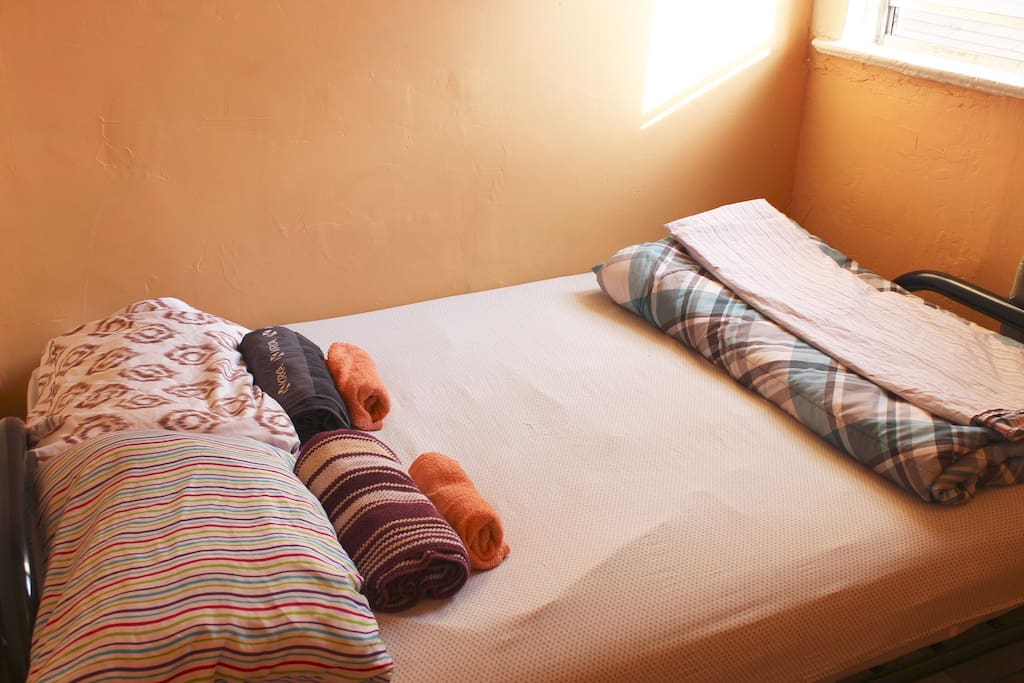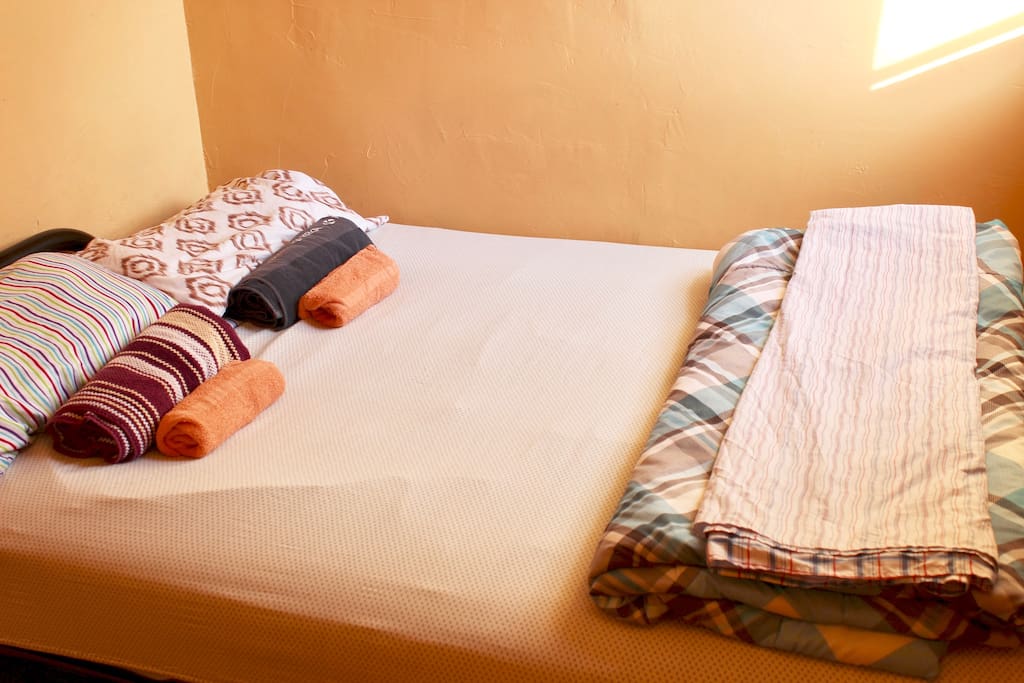 Abbiamo una zona buona e sicura. I turisti come noi e scegliere i nostri appartamenti, perché siamo nel centro. Dai nostri appartamenti con facile accesso alle attrazioni più famose. Vicino alla casa ci sono molte fermate di autobus, negozi, caffè e ristoranti. No bambini!
We have a good and safe area. Tourists like us and choose our apartments, because we are in the downtown. From our apartments with easy access to popular attractions. Near the house there are many bus stops, shops, cafes and restaurants. No kids!
L'alloggio
Caro ospite! Abbiamo preparato per voi una descrizione. La casa si trova nel cuore di Los Angeles, a 12 minuti da Hollywood. È una zona densamente popolata dove ci sono molti ristoranti, bar e negozi. A volte può esserci rumore, come in tutte le grandi città. Dalla nostra regione è facile accesso a tutte le attrazioni di Los Angeles, in quanto l'area geografica si trova nel centro della città. La nostra casa - è una grande vecchia casa a tre piani con ampi bagni e grandi finestre. Abbiamo fatto riparazioni in casa. Il bagno e la toilette sono situati su ogni piano. Bagni ristrutturati. Abbiamo solo 2 bagni full size e 2 servizi igienici. Quindi a volte devi aspettare. Il servizio di pulizia due volte al giorno pulisce i bagni. Al piano terra vi è una reception e tavole di informazione. Anche al primo e al secondo piano è un deposito per i bagagli, la sua tassa di 10 dollari. La casa dispone di connessione internet wireless 100 Mb. Accedi a Sony PlayStation 4 Password California. In tre minuti dalla casa sul Pico Boulevard ci sono molte fermate di autobus. Con il numero 33 del bus si arriva alla spiaggia di Venezia e alla famosa Santa Monica. Con il numero 30 del bus si arriva alla splendida area di Little Tokyo. Metro Vilsher / Vermont si trova a 15 minuti di distanza. Prima di Nokia Plaza, il Grammy Museum e il Centro Congressi a 20 minuti a piedi. La sera ci sono molto belle. C'è anche un cinema 3D. Ci sono molti ristoranti e caffè e turisti. Nella nostra zona potrete parcheggiare gratuitamente sulla strada. Ma leggere attentamente i segni che indicano il tempo. Inoltre non posso aiutarti con il parcheggio, quindi dovete trovare posto da soli. Rispetto il mio tempo. A due minuti dall'hotel da South Westmoreland Avenue è Desis Coin Loundy. Il supermercato Food4Less è a 5 minuti di distanza. Come in altri turisti, si prega di calmarsi presto la mattina e dopo le 22.00. Vi chiediamo anche di osservare la pulizia del bagno. Nota! Secondo il codice di abitazione di LA più di 30 giorni di soggiorno. DONT BOOK MARIJUANA GUESTS !!!! DONT BOOK MARIJUANA GUESTS !!!! DONT BOOK MARIJUANA GUESTS !!!! NO KIDS PLEASE.
Dear guest! We have prepared for you a description.
The house is located in the heart of Los Angeles, 12 minutes from Hollywood. It is a densely populated area where there are many restaurants, bars and shops. Sometimes there can be noisy, as in all large cities. From our region easy access to all attractions of Los Angeles, as the geographical area is located in the downtown.
Our house - it's a big old three-storey house with spacious bathrooms and large windows. We made repairs in the house.
The bathroom and toilet are located on each floor. Bathrooms renovated. We only have 2 full size bathrooms and 2 toilets. So sometimes you have to wait. Housekeeping twice a day cleans bathrooms. On the ground floor there is a reception and information boards. Also on the first and second floor is a storage room for luggage, its 10 dollars fee.
The house has wireless internet access 100 Mb. Login Sony PlayStation 4
Password California.
In three minutes from the house on Pico Boulevard there are many bus stops. By bus number 33 takes you to Venice Beach and Santa Monica's famous. By bus number 30 takes you to the beautiful area of Little Tokyo. Metro Vilsher / Vermont is 15 minutes away. Before Nokia Plaza, the Grammy Museum and the Convention Center 20 minutes walk. In the evening there are very nice. There is also a 3D cinema. There are many restaurants and cafes and tourists.
In our area you can park on the street for free. But carefully read the signs indicating the time. Also i can't help you with parking, so you have to find spot yourself. Please respect my time.
Two minutes from the hotel by South Westmoreland Avenue is Desis Coin Loundy. Food4Less large supermarket is 5 minutes away.
As at the other tourists live, please be quiet early in the morning and after 10 pm. We also ask you to observe the cleanliness of the bathroom.
Note! According to LA housing code more than 30 days stay.
DONT BOOK MARIJUANA GUESTS!!!!
DONT BOOK MARIJUANA GUESTS!!!!
DONT BOOK MARIJUANA GUESTS!!!!
NO KIDS PLEASE.
Accesso ospiti
Qualunque cosa. La cucina è chiusa alle 22.00. Abbiamo solo 2 bagni full size e 2 servizi igienici. Quindi a volte devi aspettare
Everything. Kitchen is closed at 10pm.
We only have 2 full size bathrooms and 2 toilets. So sometimes you have to wait
Interazione con gli ospiti
Altre cose da evidenziare
GLI OSPITI GRANDI! Abbiamo risposto alle domande più importanti qui per te, quindi è più facile per conoscere tutto. SE AVETE PIÙ DOMANDE - CHIEDI I VIA MESSAGES AIRBNB. 1.HOW TO CHECK IN? RISPOSTA: OFFRIAMO SELF CHECK IN SYSTEM. VOI COSA INVIAMO TUTTE LE INFORMAZIONI E LE ISTRUZIONI COME CONTROLLARE IN MESSAGGI DI VIA AIRBNB 1 GIORNO PRIMA DELLA DATA DI ARRIVO. CHECK IN STARTS DA 2PM. MA SI PUÒ ESSERE COME PIU 'DOPO 2PM, MA NON EARLIER, PERCHÈ LE CASE DI CASA. SE VUOI CONTROLLARE IN ANTICIPO - È POSSIBILE USARE LA CAMERA DI STOCCAGGIO PER I TUOI BORSE, IL SUO 10 DOLLARI A GIORNO. DOVETE SAPERE PRIMA CHE PRESENTI PIU 'PRECEDENTI PERCHÉ OFFRIAMO LA STANZA DI STOCCAGGIO PER LE BORSE. 2. DOVETE HANNO QUALSIASI PARCHEGGIO? RISPOSTA: SI, CI SONO 2 PARTI DI PARCHEGGIO • 1) PARCHEGGIO STREET, SOLO LEGGERE ATTENTAMENTE I SEGNALI DELLA STREET. DOMANDE CHE HA TEMPO PER TROVARE SPOT. È GRATIS. Il parcheggio in strada è difficile trovare la sera come in qualsiasi grande megopoli, ma possibile. È possibile trovare parcheggio nelle strade circostanti. 3.DO ABBIAMO UN WIFI? RISPOSTA: SI SIAMO LA RETE WIFI, DAL TEMPO WARNER COMPANY, PERCHE NON È IL MIGLIORE, MA IL GRANDE OPERE. NOME E PASSO DI WIFI È SCRITTO INSIEME ALLA PRENOTAZIONE DA AIRBNB. 4. QUESTA AREA SICURO, DOWNTOWN LA? RISPOSTA: LA AREA È SICURO. NON SIAMO EVITARE PROBLEMI IN 2 ANNI. QUESTO SETTORE È RESTAVENZIALO, GRANDE FAMIGLIE, 3 SCUOLE PUBBLICHE, TUTTE LE STORIE, CAFFÈ E GRANDI SERVIZI POLICI NELLA NOSTRA AREA. 5. COME RAGGIUNGERCI A HOLLYWOOD, AL OCEANO / SPIAGGE E AL CENTRO DOWNTOWN / CONVENTION RISPOSTA: SIAMO SOLO PER 12-15 MIN DA UBER / TAXI / BUS / METRO, OCEANO / SPIAGGE È 25-30 MIN DA UBER / BUS, SI PREGA DI CONTROLLARE (MAPPE CONTENUTI SENSIBILI) PER PIU 'INFO. DOWNTOWN È SOLAMENTE 2-5 MIN DA US. 6. POSSIAMO MANGIARE (CAFFÈ / RISTORANTI, CIBO, SUPERMERKETS)? RISPOSTA: ABBIAMO MOLTO LOTTI DI PICCOLI RISTORANTI NELLA NOSTRA AREA IN UNA DISTANZA DI PASSEGGERIA, QUALUNQUE COSTI DI PASTA SONO APROXIMATLY I(URL HIDDEN) 7. CHIAMO LE CAMERE CHE AVER? RISPOSTA: Abbiamo solo camere private, non condiviso. COMPLETAMENTE PRIVATO. OGNI STANZA HA I LORO CHIAMATE, PRIVITE, COSTI E MOLTO COMODI DA RAFFREDERE DOPO IL GRANDE TRIP. ALL'INTERNO DELLA CAMERA - LETTI COMPLETI LETTI / LETTI (AMERICAN STANDART). OFFRIAMO IMPIEGHI COME LAVORI, LINENS, GEL DOCCIA. ALCUNE CAMERE CON AC / VENTILATORI / RISCALDATORI. 8.DO HAI TUTTI I CASANTI DELLA CASA (URL NASCOSTO) RISPOSTA: Abbiamo una squadra molto bella di HOUSEKEEPERS. IL CLEANIN (URL NASCOSTO) (URL NASCOSTO) ORE 10:00 - 12:00 OGNI GIORNO. PULIAMO AREE COMUNI, RISCALDAMENTI, TOILETTE E SHOWERS. RIPETIAMO I PAPI DELL'ALIMENTAZIONE. PERSONE NON PULIRE DOPO LE NOSTRE TERZI E CHIAMO NOTA BENE NEL CASO IN CUI HAI NECESSITÀ DI PULIZIA ADDIZIONALE. PULIAMO LE CAMERE DOPO LE PERSONE CONTROLLATE. 9.DO ABBIAMO UNA ZONA DI STOCCAGGIO DA PORTARE I MIO BORSE NEL MOMENTO O DOPO CONTROLLO? RISPOSTA: SI, ABBIAMO LE CAMERE DI STOCCAGGIO. IL SUO È 10 $ A GIORNO Fino a 4 sacchetti. SE HA BISOGNO LA CONSERVAZIONE PIU 'GRANDE DOVE SAPERE. ANCHE SI PUO LEI LE BORSE SULLE 15 GIORNI. POSSIAMO DISPONIBILE. 10. È SICURO NELLA CASA / CAMERA? RISPOSTA: SÌ, SAREBBE SICUREZZA. ALL'INTERNO DELLA CASA CI SONO CAMERETE DI SICUREZZA NELLE AREE COMMONTE. OGNI PORTA HA ILLUMINAZIONE, LE VOSTRE CAMERE, ANCHE LOCK, LA MAIN DOOR HA BLOCCAGGIO E LE COSE HA LOCK. 11. CHE SONO LE REGOLE DELLA CASA? RISPOSTA: NO SMOKING, NO DRUGS, NO NOISE dopo 11 PM, nessuna parte. SE VUOI DOPO 11PM SI PREGA DI ESSERE QUITE AS POSSIBILE PERCHÉ PERSONE DIVANO. 12. COME È IL CHECK OUT? RISPOSTA: CHECK OUT TEMPO 10 AM A 10.30AM. NON PERDERE NESSUNA PERSONALIZZAZIONE, GARBIDGE DI PICCOLA ALL'INTERNO DEL COSTRUO CONDIVIDAMO IL BIN. Lasciatevi lasciare i tasti nella serratura KBOB, come lo avete trovato. 13. POSSONO FUMO O BERE ALCOLO NELLA CASA? RISPOSTA: INFORTUNATAMENTE NON SIAMO ammesso fumare all'interno della casa. È CASA SANA. È possibile fumare in zona barbecue o fuori della casa. SEMPLICEMENTE NO MARIJUANNA !!! ANNUNCIAMO IL SOGGIORNO SEMPLICEMENTE QUALCOSCETE CHE FANNO MARIJUANNA / DROGA. 14. POSSONO ACCEDERE TESSUTI / LINENS? RISPOSTA: SE NECESSARIO SPAZI AGGIUNTIVI / LINENS, SI PREGA DI GESTORE O TESTO SOTTO IL MESSAGGIO AIRBNB. 15. Posso aggiungere più giorni alla prenotazione? RISPOSTA: È possibile aggiungere più giorni utilizzando AIRBNB. NON CONSENTIAMO L'ESTENSIONE DI CASI O DI VERBALI. SOLO INNESTO AIRBNB. SE HAI NECESSARIO PIÙ GIORNI - FACCIAMO ONLINE PER IL PROCESSO DI ALTERAZIONE. 16. POSSIAMO ORDINARE L'AEROPORTO PICK UP OR TAXI SERVICE? RISPOSTA: SI POSSIAMO IL TRASFERIMENTO DELL'AEROPORTO. È UNA MODO DI $ 45, MAX PERSON - 3, SE SARÀ 4 - 6 CLIENTI, PREMIO - $ 75 UN WAY. PER OTTENERE UNO - MESSAGGI E TESSUTO VIA AIRBNB PER USI LE NOSTRE FOTO INFO E TERMINALE / LUOGO. 17. POSSONO ANNULLARE LA MIA PRENOTAZIONE? RISPOSTA: Puoi annullarla usando AIRBNB, ma assicurati di leggere le norme di annullamento per quanto riguarda il rimborso. 18. POSSONO USARE LA CUCINA? RISPOSTA: CUCINA CHE CHIUSA SCOPERTA PER GLI OSPITI, MA SIAMO MACROWAVE, FRIGORIFERI, KETTLE ELETTRICI. 19. POSSIAMO ARRIVARE MORNING IN ORIENTE O LA NOTTE TORNATA? RISPOSTA: LA VOSTRA CAMERA RISERVATA SARÀ PRONTO A 2PM, DOPO LE CASE DI CASA. SE VUOI ESSERE COME PREVISTO - È POSSIBILE USARE LA CAMERA DI STOCCAGGIO CHE È 10 DOLLARI PER GIORNO. SE VERDI ISTRUZIONI DI UTILIZZO PIU 'DURANTE I MESSAGGI AIRBNB, CHE SONO stati inviati a voi. 20. C'è qualche lavanderia in casa? RISPOSTA: NON SIAMO LA LAVANDERIA INSIEME ALLA CASA. SI PUO 'USARE LA LAVANDERIA DI COIN NELLA NOSTRA AREA IN PASSEGGERIA DISTANZA. 21. POSSONO AVERE LA POSTA O LA CONSEGNA DI PUNTI ALLA CASA? RISPOSTA: MAIL O CONSEGNA O PUNTI DI PERFEZIONAMENTO NON SONO CONSENTITI PER MOTIVI DI SICUREZZA. 22. C'è qualche stampante in casa? RISPOSTA: PER LA STAMPA SI PREGA DI UTILIZZARE I NEGOZI DI STAMPA NELLA NOSTRA AREA, CHECK BY (SENSITIVE CONTENTS HIDDEN) MAP. 23. DOVE L'ACQUA / RISTORAZIONE? RISPOSTA: OGNI PIANO HA IL SUO RAGGRUPPAMENTO E DOCCIA. CONTROLLATE DOPPIE LE INFORMAZIONI INFORMAZIONI AIRBNB INSERISCI. 24. C'È QUALSIASI PASTO O CAFFÈ GRATUITO? RISPOSTA: HO SOLO CAFFÈ GRATUITO. NON FORNIAMO LA PRIMA COLAZIONE. 25. C'è qualche animale in casa? RISPOSTA: NO. NON AMMETE ANIMALI DOMESTICI ALLA CASA. 26. POSSIAMO CON I BAMBINI. È BUONA PER I BAMBINI? RISPOSTA: Abbiamo indicato l'opzione "NO KIDS" in AIRBNB, poiché la casa è molto vecchia e può essere NOISY, così come su di te. 27. POSSONO IMPARARE I MIEI ANIMALI? (URL HIDDEN) RISPOSTA: NO PETS SI PREGA DI! Alcune persone possono avere allergie, SORRY. 28. C'È QUALSIASI SUPERMARKET / STORIA DEL CIBO? RISPOSTA: Abbiamo molti negozi intorno a prezzi molto concorrenziali, anche grande supermercato nominato "cibo meno in lieve", si prega di verificare (mappa sensibile SENSITIVA NASTRI). LA TUA CAMERA SU 5 MINI. 29. È QUESTO UNA ZONA DI DOCUMENTAZIONE E NOISY? RISPOSTA: LA CASA POSSIBILE NEL CENTRO DI LA. COME SAPERE LA È UNA MIGLIORE CITTÀ DI CALIFORNIA CON MILIONI DI PERSONE VITA (URL NASCOSTO) NON SARÀ NON SORRISCE SE SEMPRE SEMPRE MOLTO NOISY E BUSY. 30. COME VECCHIA È LA CASA E COSA LA CONDIZIONE (URL NASCOSTO) RISPOSTA: LA CASA È PIÙ DI 100 ANNI DAL COSTRUIRE. L'ULTIMO ANNO (URL NASCOSTO) NON RINNOVOAMO, MA NON SEMMENO DOS NON CIÒ LO STILE FANCIO / FASHION, MA È MOLTO BELLO, COSÌ E COMFORTALE. HA REGOLARMENTE ABITO E SCARICO. 31. C'è qualche TV in mezzo alla stanza? RISPOSTA: NON OFFRIAMO QUALSIASI TV, MA SIAMO INTERNET VELOCE, PERCHE 'POSSONO ESSERE UTILIZZATI. 32. C'è qualche area per la sigaretta MARIHUANA? RISPOSTA: NO, NO, NO !!! SI PREGA DI FARE ATTENTAMENTE NON AMMESSO FUMO MARIHUANA IN ANT WAY. NON INSIEME DI CASA, NON AFFINITO O CHIUSO ALLA CASA. SE VEDIAMO QUALSIASI, LA TUA PRENOTAZIONE E 'ANNULLATA E CHIAMO L'ARRIVO stesso giorno. QUESTO È REGOLE DI CASA! 33. CHI VITA IN CASA? RISPOSTA: MALA DELLA MIA CASA RIUNITI DEI MIEI FAMILIARI, PERCHE 'PIÙ RISPETTIVO E RISPETTA LE NOSTRE REGOLE DI CASA. 34. COME MIGLIORA USARE METRO O BUS? RISPOSTA: METRO O BUS OTTENERE $ 1,75 O PUOI ACQUISTARE LA CARTOLINA DI VIAGGIO. 35. SE POSSIBILE PAGARE IN CASSA? RISPOSTA: NON ACCETTIAMO QUALSIASI CASH QUESTO, SOLO PAGAMENTI AIRBNB. 36. QUALSIASI PARCHEGGIO PER IL BICICLETTE? RISPOSTA: OTTIMO PARCHEGGIO GRATUITO PER IL BICICLETTO O PUOI MORGERE LA VOSTRA BICICLETTA SULLA CASA, MA SI ASSICURANO CHE NON BLOCCA QUALSIASI AREA COMUNE. 37. C'è un asciugacapelli e un ferro? RISPOSTA: NESSUN FERRO DISPONIBILE PER RAGIONE DI SICUREZZA. MA SIAMO ASCIUGATRICI, SI PREGA DI CHIEDERE IL GESTORE. 38. POSSIBILE USARE L'ANCORA ANTERIORE (URL NASCOSTO) RISPOSTA: SÌ, POSSIBILE. POTETE SEDUTE E GODE CON LA TAZZA DI CAFFÈ O PASTO. MA SI PREGA DI NON USARE DOPO 11 PEPPI DIVENTA CHE IL TEMPO E I WINDOWS SONO FACCIATI ALLA FRONTALE.
DEAR GUESTS!
WE HAVE ANSWERED MOST QUESTIONS HERE FOR YOU, SO IT IS EASIER FOR YOU TO KNOW EVERYTHING. IF YOU HAVE MORE QUESTIONS – ASK US VIA AIRBNB MESSAGES.
1.HOW TO CHECK IN?
ANSWER:
WE PROVIDE SELF CHECK IN SYSTEM. THAT MEANS, WE SEND ALL INFORMATION AND INSTRUCTIONS HOW TO CHECK IN VIA AIRBNB MESSAGES 1 DAY BEFORE ARRIVAL DATE. CHECK IN STARTS FROM 2PM. BUT YOU CAN COME LATER AFTER 2PM BUT NOT EARLIER, BECAUSE HOUSE KEEPER WORKS. IF YOU WANT TO CHECK IN EARLIER – YOU CAN USE STORAGE ROOM FOR YOUR BAGS, ITS 10 DOLLARS PER DAY. LET US KNOW BEFORE IF YOU COME EARLIER SO WE CAN OFFER STORAGE ROOM FOR YOU BAGS.
2.DO YOU HAVE ANY PARKING?
ANSWER: YES, WE HAVE 2 KIND OF PARKING
•1) STREET PARKING, JUST PLEASE CAREFULLY READ THE STREET SIGNS. SOMETIMES IT TAKES TIME TO FIND SPOT. ITS FREE.
Street Parking is hard to find in the evening as in any huge megopolis,but possible. You can find Parking in the surrounding streets.
3.DO WE HAVE A WIFI?
ANSWER: YES WE HAVE WIFI NETWORK, ITS FROM TIME WARNER COMPANY, SO ITS NOT THE BEST ONE, BUT WORKS GREAT. WIFI NAME AND PASS IS WRITTEN INSIDE YOUR BOOKING FROM AIRBNB.
4.IS THIS SAFE AREA, DOWNTOWN LA?
ANSWER: THE AREA IS SAFE. WE DON'T HAVA ANY PROBLEMS WITHIN 2 YEARS. THIS AREA IS MOSTLY RESEDENTIAL, BIG FAMILIES, 3 PUBLIC SCHOOLS AROUND, LOTS OF STORES, CAFES AND BIG POLICE DEPARTMENT IN OUR AREA.
5.HOW TO GET TO HOLLYWOOD, TO OCEAN/BEACHES AND TO THE DOWNTOWN/CONVENTION CENTER
ANSWER: WE ARE JUST ABOUT 12-15 MIN BY UBER/ TAXI/BUS/METRO, OCEAN/BEACHES IS 25-30 MIN BY UBER/BUS, PLEASE CHECK (SENSITIVE CONTENTS HIDDEN) MAPS FOR MORE INFO. DOWNTOWN IS JUST 2-5 MIN FROM US.
6.WHERE CAN WE EAT (CAFES/RESTAURANTS, FOOD STORE, SUPERMERKETS)?
ANSWER: WE DO HAVE LOTS OF SMALL RESTOURANTS IN OUR AREA WITHIN WALK DISTANCE, EACH MEAL COASTS APROXIMATLY IS $5 or $7
7.WHAT KIND OF ROOMS WE WILL HAVE?
ANSWER: WE HAVE ONLY PRIVATE ROOMS, NO SHARED. FULLY PRIVATE. EVERY OF ROOM HAS THEIR OWN KEYS, ITS PRIVITE, COZY AND VERY COMFORTABLE FOR RELAXING AFTER BIG TRIP. INSIDE THE ROOM - FULL SIZE BED/BEDS (AMERICAN STANDART). WE PROVIDE NECESSARY ITEMS LIKE TOWELS, LINENS, SHOWER GEL. SOME ROOMS HAS AC/FANS/HEATERS.
8.DO YOU HAVE HOUSE KEEPERS(URL HIDDEN)ANSWER: WE HAVE VERY NICE TEAM OF HOUSEKEEPERS. THE CLEANIN(URL HIDDEN)
(URL HIDDEN)HOURS 10 AM - 12 PM EVERY DAY. WE CLEAN COMMON AREAS, RESTROOMS, TOILET AND SHOWERS. WE RESTOCK THE TOILET PAPERS. SOMETIMES PEOPLE DON'T CLEAN AFTER THEMSELVES AND PLEASE NOTIFY US IF YOU NEED ADDITIONAL CLEANING. WE CLEAN THE ROOMS AFTER PEOPLE CHECK OUT.
9.DO WE HAVE A STORAGE AREA TO PUT MY BAGS IN THE MORNING OR AFTER CHECK OUT?
ANSWER: YES, WE HAVE STORAGE ROOMS. ITS IS $ 10 PER DAY UP TO 4 BAGS. IF YOU NEED BIGGER STORAGE LET US KNOW. ALSO YOU CAN LEAVE THE BAGS UP TO 15 DAYS. WE CAN GIVE YOU DISCOUNT.

10. IS IT SAFE IN THE HOUSE/ROOM?
ANSWER: YES, YOU'LL BE VERY SAFE. INSIDE THE HOUSE WE HAVE SECURITY CAMERAS IN COMMON AREAS. EVERY DOOR HAS OWN LOCK, YOUR ROOMS ALSO HAS LOCK, MAIN DOOR HAS LOCK AND GATES HAS LOCK.
11. WHAT ARE THE RULES OF THE HOUSE?
ANSWER: NO SMOKING, NO DRUGS, NO NOISE AFTER 11 PM, NO PARTY. IF YOU COME AFTER 11PM PLEASE BE QUITE AS POSSIBLE BECAUSE PEOPLE SLEEP.
12. HOW IS THE CHECK OUT?
ANSWER: CHECK OUT TIME AT 10 AM TILL 10.30AM. PLEASE DON'T LEAVE ANY PERSONAL BELONGINGS, THROW GARBIDGE AT THE BACK OF THE BUILDING WE HAVE GARBAGE BIN. PLEASE LEAVE THE KEYS IN THE DOOR LOCK KBOB, LIKE YOU FOUND IT.
13. CAN I SMOKE OR DRINK ALKOHOL IN THE HOUSE?
ANSWER: UNFORTUNATLY WE DON'T ALLOWED SMOKING INSIDE THE HOUSE. IT IS HEALTHY HOUSE. YOU CAN SMOKE AT THE BBQ AREA OR OUTSIDE THE HOUSE. STRICTLY NO MARIJUANNA!!! WE CANCEL THE STAY SAME DAY IF SOMEONE IS DOING MARIJUANNA/DRUGS.
14. CAN I GET ADDITIONAL TOWELS/LINENS?
ANSWER: IF YOU NEED ADDITIONAL TOWELS/LINENS, PLEASE MANAGER OR TEXT INSIDE THE AIRBNB MESSAGE.
15. CAN I ADD MORE DAYS TO EXISTING RESERVATION?
ANSWER: YOU CAN ADD MORE DAYS BY USING AIRBNB. WE DON'T ALLOW CASH OR VERBAL WORDS EXTENSION. ONLY INSIDE AIRBNB. IF YOU NEED MORE DAYS – DO IT ONLINE VIA ALTERATION PROCESS.
16. CAN I ORDER AIRPORT PICK UP OR TAXI SERVICE?

ANSWER: YES WE PROVIDE AIRPORT TRANSFER. IT IS $45 ONE WAY, MAX PERSON - 3, IF WILL BE 4 - 6 CUSTOMERS, PRISE - $ 75 ONE WAY. TO ODER ONE – LET US KNOW VIA AIRBNB MESSAGES AND TEXT US YOUR FLIGHT INFO AND TERMINAL/LOCATION.
17. CAN I CANCEL MY RESERVATION?
ANSWER: YOU CAN CANCEL IT USING AIRBNB, BUT MAKE SURE YOU READ CANCELATION RULES CONCERNING HOW MUCH IS REFUNDED.
18. CAN I USE KITCHEN?
ANSWER: UNFORTUNATLY KITCHEN CLOSED FOR GUESTS, BUT WE HAVE MACROWAVE, REFRIGIRATORS, ELECTRIC KETTLE.
19. CAN I ARRIVE EARLY MORNING OR LATE NIGHT?
ANSWER: YOUR RESERVED ROOM WILL BE READY AT 2PM, BECAUSE HOUSE KEEPER WORKS. IF YOU WANT TO COME EARLIER – YOU CAN USE STORAGE ROOM WHICH IS 10 DOLLARS PER DAY. IF YOU COME LATER USE INSTRUCTIONS INSIDE THE AIRBNB MESSAGES, WHICH HAS BEEN SENT TO YOU.
20. IS THERE ANY LAUNDRY AT HOUSE?
ANSWER: WE DON'T HAVE LAUNDRY INSIDE THE HOUSE. YOU CAN USE COIN LAUNDRY IN OUR AREA IN WALKING DISTANCE.
21. CAN I GET MAIL OR DELIVERY OF ITEMS TO THE HOUSE?
ANSWER: UNFORTUNATLY MAIL OR DELIVERY OR ITEMS ARE NOT ALLOWED FOR SAFETY REASONS.
22. IS THERE ANY PRINTER AT HOUSE?
ANSWER: FOR PRINTING PLEASE USE PRINT SHOPS IN OUR AREA, CHECK BY (SENSITIVE CONTENTS HIDDEN) MAP.
23. WHERE THE SHOWER/RESTROOM?
ANSWER: EVERY OF FLOOR HAS ITS OWN RESTROOM & SHOWER AREA. DOUBLE CHECK THE INFO INSIDE AIRBNB DETAILS.
24. IS THERE ANY FREE MEAL OR COFFEE?
ANSWER: WE HAVE ONLY FREE COFFEE. WE DON'T PROVIDE BREAKFAST.
25. IS THERE ANY PETS AT THE HOUSE?
ANSWER: NO. WE DON'T ALLOW ANY PETS AT THE HOUSE.
26. CAN I COME WITH KIDS. IS IT GOOD FOR KIDS?
ANSWER: WE MARKED THE OPTION "NO KIDS" IN AIRBNB, BECAUSE THE HOUSE IS VERY OLD AND CAN BE NOISY, SO ITS UP TO YOU.
27. CAN I BRING MY PETS?
(URL HIDDEN)ANSWER: NO PETS PLEASE! SOME GUESTS MIGHT HAVE ALLERGY, SORRY.
28. IS THERE ANY SUPERMARKET/FOOD STORE AROUND?
ANSWER: WE HAVE MANY STORES AROUND WITH VERY CONVINIENCE PRICES, ALSO BIG SUPERMARKET NAMED "FOOD 4 LESS", PLEASE CHECK ON (SENSITIVE CONTENTS HIDDEN) MAP. ITS WALK ABOUT 5 MIN.
29. IS THIS A BUSY AND NOISY AREA?
ANSWER: THE HOUSE LOCAITED IN THE CENTER OF LA. AS YOU KNOW LA
IS A VERY BIG CITY OF CALIFORNIA WITH MILLIONS OF PEOPLE LIVED IN(URL HIDDEN) IT WON'T SURPRISED YOU IF SOMETIMES VERY NOISY AND BUSY.
30. HOW OLD IS THE HOUSE AND WHAT THE CONDITION(URL HIDDEN)ANSWER: THE HOUSE IS MORE THAN 100 YEARS SINCE BUILD. LAST YEAR(URL HIDDEN) WE DID RENOVATION, BUT STILL DOS NOT LOOK FANCY/FASHION STYLE, BUT IT'S VERY NICE, COZY AND COMFORTALE. IT HAS REGULAR WEAR AND TEAR.
31. IS THERE ANY TV INSIDE THE ROOM?
ANSWER: WE DON'T OFFERING ANY TV, BUT WE HAVE FAST INTERNET, SO YOU CAN USE IT.
32. IS THERE ANY AREA FOR SMOKING MARIHUANA?
ANSWER: NO, NO, NO!!! PLEASE BE CAREFUL WE DON'T ALLOWED SMOKE MARIHUANA IN ANT WAY. NOT INSIDE OF HOUSE, NOT OUTSIDE OR CLOSED TO HOUSE. IF ANYBODY SEE YOU, YOUR RESERVATION WILL BE CANCELED AND WE CALL AIRBNB SAME DAY. THIS IS HOUSE RULES!

33. WHO LIVES IN THE HOUSE?
ANSWER: HALF OF MY HOUSE BELONGS OF MY FAMILY MEMBERS, SO PLEASE BE MORE RESPECTFUL AND RESPECT OUR HOUSE RULES.

34. HOW MUCH DOES IT COAST TO USE METRO OR BUS?
ANSWER: METRO OR BUS WILL COAST YOU $1.75 OR YOU CAN BUY TRAVEL CARD.
35. IF IT POSSIBLE TO PAY BY CASH?
ANSWER: WE DON'T ACCEPT ANY CASH HERE, ONLY AIRBNB PAYMENTS.
36. ANY PARKING FOR BICYCLE?
ANSWER: WE HAVE VERY NICE FREE PARKING FOR BICYCLE OR YOU CAN BRING YOUR BIKE INSIDE THE HOUSE, BUT MAKE SURE ITS NOT BLOCKING ANY COMMON AREAS.
37. IS THERE HAIR DRYER AND IRON?
ANSWER: NO IRON AVAILABLE FOR SAFTY REASON. BUT WE HAVE HAIR DRYER, PLEASE ASK TO MANAGER.
38. CAN I USE THE FRONT YEARD(URL HIDDEN) ANSWER: YES, YOU CAN. YOU CAN SEAT AND ENJOY WITH CUP OF COFFEE OR MEAL. BUT PLEASE DON'T USE IT AFTER 11PM PEOPLE IS SLEEP THAT TIME AND WINDOWS ARE FACED TO THE FRONT YARD.
Ospiti extra nessun costo aggiuntivo
Comunica sempre attraverso Airbnb
Per proteggere i tuoi pagamenti, non trasferire mai del denaro e non comunicare all'esterno del sito Web o dell'app di Airbnb.
Check-in a qualsiasi ora dopo le 14:00
No smoking. Quite hours after 11pm!!!!!!. If you smoke marijanna here, prepare for cancel your stay. Always clean after using bath and kitchen. Also please throw your garbage at the back of the building. Upon check out leave the keys in door lock and leave the door unlocked. Respect the nieghbours please! Thanks for been great guest and support our project! Please don't send any mail to this house because of safety reasons. No kids sorry!
I am sorry, we don't provide any parking at this location, manage the parking yourself on street. I am not responsible for parking and can't help you to find parking. people find parking themselves. thanks for understanding and respect.
I am sorry, we don't provide any parking at this location, manage the parking yourself on street. I am not responsible for parking and can't help you to find parking. people find parking themselves. thanks for understanding and respect.
Rilevatore di monossido di carbonio
Los Angeles, California, Stati Uniti
Membro dal Giugno 2014
My family have big house and we want to share it with you. We like to travel and we love meeting new people from all over the world. Most of my family members works also with airbnb service. We offer budget stay, which is not perfect, but located in Downtown LA and is very nice. Houses are old, but clean and well managed.
Lingue:
English, Français, Italiano, Polski, Português
Tasso di risposta:
100%
Tempo di risposta:
entro un'ora
Esplora altre opzioni a Los Angeles e nei dintorni
Altri alloggi disponibili a Los Angeles: